UGA ESTEEMED
---
The NIH ESTEEMED Program is sponsored by the National Institutes of Health (NIH) "to support educational activities that enhance the diversity of the biomedical research workforce through early preparation for undergraduate students in STEM fields."
The UGA ESTEEMED program is an NIH-funded opportunity for undergraduate students from underrepresented groups who are interested in seeing first-hand how their major contributes to biomedicine and exploring potential careers paths. It's mission has been designed to "prepare well-rounded students majoring in STEM disciplines for biomedical research careers in academia or industry."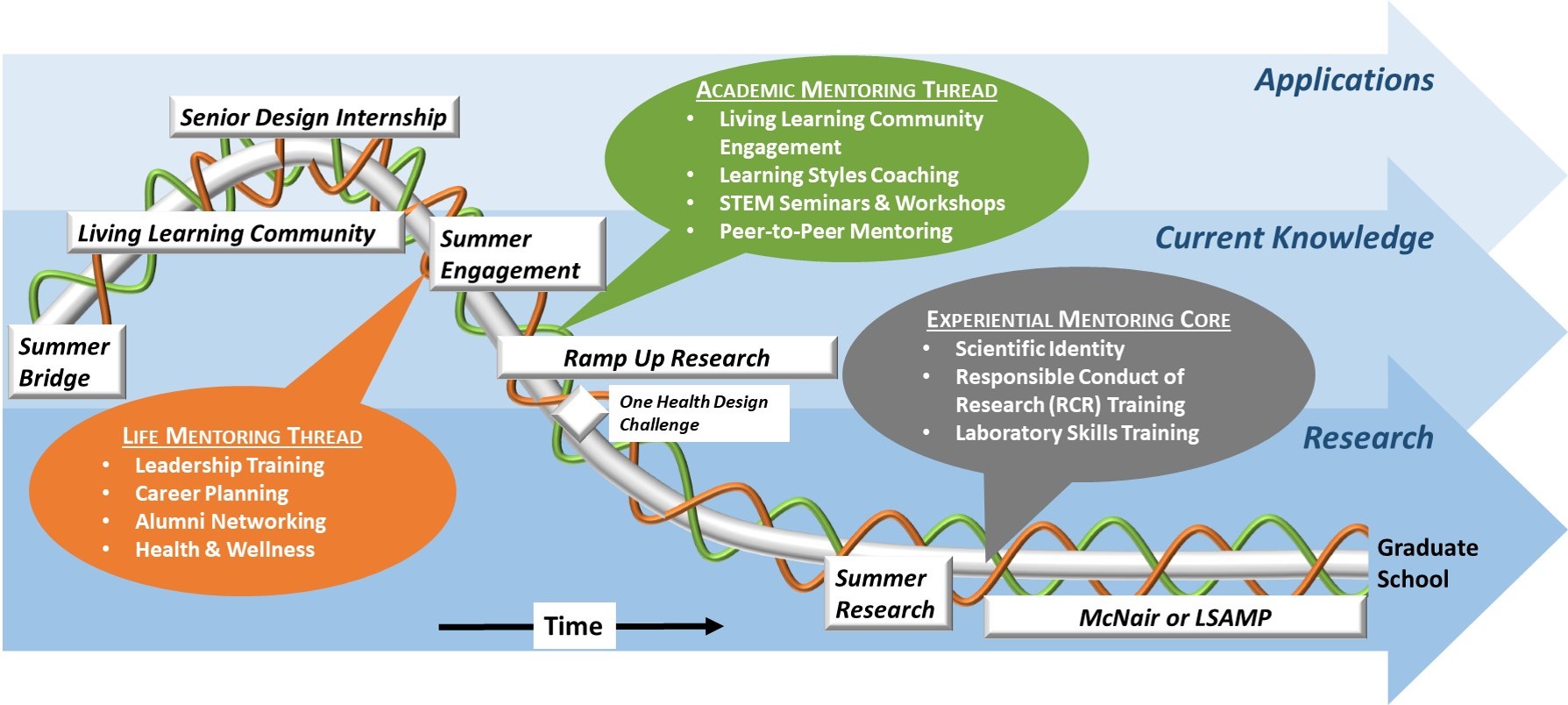 Program Elements
Mentoring Network

Five-Week Summer Bridge (June 27 - July 29, 2022)

Stipends & Travel Awards

Biomedical Living Learning Community

Design Interactive Shadowing and First Year Odyssey Seminar

Community Engagement

Monthly Meetings and Workshops

Annual One Health ESTEEMED Design Challenge
Program Summary
Starting Stronger – Going Further. Led by a diverse multiple PI team, the UGA ESTEEMED program will lead ESTEEMED Scholars along a path of increasing challenges – a path that includes the application of biomedical research, toward the goal of interest and success in doctoral work. Scholars will enter the ESTEEMED program through a summer bridge curriculum and a co-located biomedical living-learning community, which will ensure engagement and networking.

In the first year, Scholars will join an engineering senior design team focused on biomedical design for underserved communities to experience how knowledge is transformed from observations about nature to products that can change lives. They will work with peer mentors to apply science to solve real-world problems in ways consonant with industrial practices, learning how to listen, question, and answer business -- and ultimately research -- questions through personal communication. Scholars will be coached during a summer outreach project to appreciate how their skills and solutions can impact a community. These experiences will inspire ESTEEMED Scholars to develop a research inquiry mindset as they start developing big ideas and solutions. Scholars will also learn the vocabulary and infrastructure of research and have a sense of belonging to the research community.

ESTEEMED Scholars will learn about biomedical sciences through the lens of animal medicine/regulatory and participate in One Health design challenges, teaming with ESTEEMED Scholars from other institutions who are learning about biomedical sciences through the lens of human medicine (Georgia Tech) and through the physiological environment (Savannah State University). Scholars will engage in mentored research projects that will cement their belief that they can make valuable contributions. Upon "graduation" from the ESTEEMED program, the scholars will enter the LSAMP or McNair honors programs for subsequent years.
Starts Summer 2022!